We change the Power of Nature to our Skill
We go forward in an adverse wind
We run faster before the tailwind
We have the righting moment
We TOMODA SELLING & SAILING CO., LTD. is located at the site of Miho Bay, having white sand, and pine trees, and surrounded by rich nature that provide blessing of abundant underground water from Mt. Daisen.
Sakaiminato is a natural good port. One of the biggest landing port of marine products in Japan, and located in the hub of western Japan. From Yonago Kitaro International Airport, many access to not only local cities but also overseas. We endeavor to produce and deliver delicious and safe food from this blessed nature.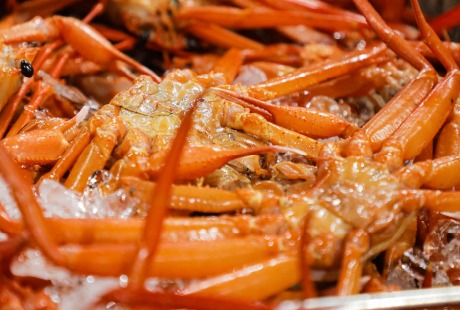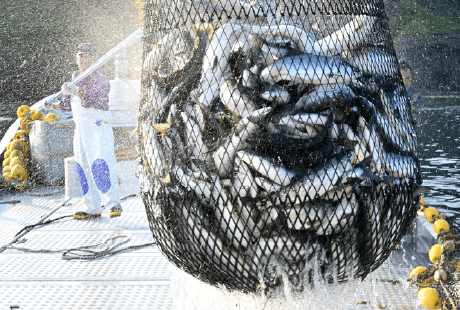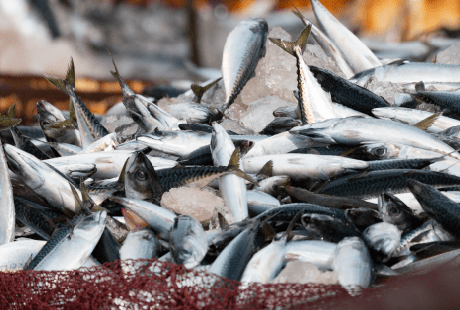 Company Name
Tomoda Selling & Sailing Co., Ltd.
Board member

Chairman

Kazuyuki Moriwaki


President

Hiroshi Tomoda


Senior Managing Director

Masato Araki
Capital
JPY 30,000,000-
Fiscal year end
March 31
Employees
170
Our Business

Production and Sales of Crab products (King Crab, Snow Cab, Red Snow Crab, etc)
Production and Sales of Fish products (Processed Fish, Frozen Fish, Fresh Fish)
Sales of Processing Equipment (Patented Technology)
Online Sales (Electric Commerce)
Import & Export Sales

Our Location
Banks
Tottori Bank, San-in Godo Bank, Mizuho Bank, Chugoku Bank
Customers
Major Central Fish Market, Wholesaler, Retailer, Food service, Trading company
Subcontract factories

Korea
Se Bum Foods Co., Ltd. (HACCP certified, patented steaming technology is installed)
Sewoong Fisheries Co., Ltd. (HACCP certified)

---

China
Yantai Longda Food stuffs Co., Ltd.(HACCP certified, EU approved, MSC)

---

Other countries
Indonesia, Thailand, Vietnam
Year
Month
Archive
1954
Hosho Fisheries Co., Ltd. is established.
(Set-net fisheries in Okinoshima Island)
1962
Jan.
Tomoda Fisheries Co., Ltd. is established at Takamatsu-cho Sakaiminato.
(Producing Niboshi Boiled & Dried Sardine)
1978
Jan.
Tomoda Fisheries Co., Ltd. is established.
1981
May
Head office is moved to the Showa-machi processing zone in Sakaiminato.
1986
Jan.
Processing and sales of Crab products are started.

Cold-Storage for 1,500mt is built (F-class)

1990
Oct.
The second factory is built.

Cold-Storage for 5,500mt (F-class), Freezer for 50mt x 2
Selector factory

1996
May
Head Office is moved to the Takenouchi processing zone.

Logistics center is built (cold storage for 3,500mt)
Head factory is built

1998
Sep.
The company is split to establish Tomoda Selling & Sailing Co., Ltd.
2000
Sep.
Crab processing factory (9,000㎡) is built with HACCP certification.

Batch type freezer for 50mt
Tunnel freezer x 1
Ice temperature cold storage x 3 (C-class)
Boiling Line x 1, Crab processing equipment x 1 set

2003
May
HACCP certified for three crab products.
2004
Jan.
Tokyo Branch is opened.
2006
Apr.
Environment ISO 14001 is obtained.
2010
Aug.
Head Factory is expanded.

Super high-pressure machine x 1, and Retort machine x 1
Patented steam heating technology processing line is expanded

2011
Jul.
Additional fish processing line and fish chamber are installed.
2012
Nov.
Kansai branch is opened.
2013
Jan.
Tomoda Fisheries Co., Ltd. is merged with Tomoda Selling & Sailing Co., Ltd.
2014
Jul.
Yokkaichi office is opened.
2018
Jul.
HACCP certified for two products additionally.
2019
Aug.
Frozen Processed Food production line is expanded
2021
Jun.
Tokyo office is moved, and our retail shop "KANIMAI" is opened together in the same place.
80 Takenouchi, Sakaiminato City, Tottori, Japan 684-0046
By air
By train